Welcome to Flexoplate, Inc.
PlateMakers to the Packaging Industry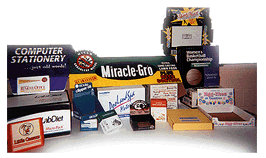 We are family owned and operated flexographic platemakers having started our quest in 1968. We incorporate the old style Tradeshop Craftsmanship with the newer technologies of today to bring the customers Better Products and Better Service with increased Quality and Value through High Business Ethics and Integrity.

Utilization or "years of experience" by our staff incorporates the old tradeshop technologies of rubber engraving, type composition, masters, molds, and rubber platemaking, with the newer technologies of computer generated graphics, creative artwork, computer generated films, proofs and distortions, into the Photopolymer process in either sheet or liquid format. Whatever the "customers needs" fits into our motto of "Fast Dependable Service with Quality and Integrity at a Fair Price".

Employees are our greatest asset, and it is their knowledge and dedication to our customers that differentiates us from our competition.







Family Owned and Operated
6504 Corporate Drive
Cincinnati, OH 45242
Phone: 513-489-0433
Fax: 513-489-0437

salesandservice@flexoplate.com




Equal Opportunity Employer
The undersigned contractor, subcontractor, seller or supplier, (hereinafter the "undersigned") agrees and certifies that it complies with the Equal Opportunity Clause, prohibiting discrimination against any employee or applicant for employment because of race, color,religion, sex or national origin, set forth in 41 Code of Federal Regulations ("CFR") Article 60-1.4, which is incorporated by reference in each contract, subcontract or purchase order which is presently existing or which may be entered into.
---
| Return Home | Operating Principles | Our Vision | Contact Us | Products and Capabilities | Quality Statement | File Standards | Download Software | Fun Links |